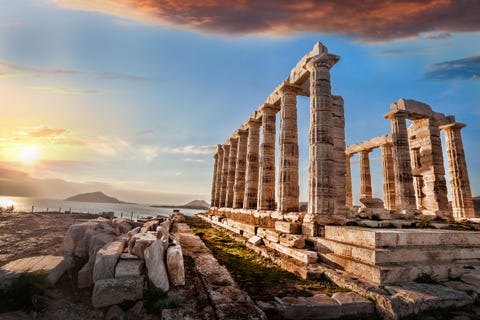 extravagantniGetty Images
Next month, Mary Katrantzou will stage a show at the Temple of Poseidon in Greece, becoming the first designer to do so. While other brands have tried and failed to stage catwalk events inside the ancient Greek monument, Katrantzou's homecoming marks the end of her brand's 10-year anniversary celebrations – and what a setting it'll be.
Just over an hour away from Athens, the Temple of Poseidon sits atop the craggy cliff of Cape Sounion, towering 70 metres above the sea. It's a majestic location that boasts some of Greece's most beautiful sunset vistas, and is fiercely protected by the Greek authorities. Katrantzou knew gaining their approval wouldn't be an easy process, but for her, there was never another choice.
"Everyone advised against it because we were made aware that there had been a few applications for that monument that were vetoed by the archaeological committee and the government," she told us. "Everyone knew it was difficult, but we felt our efforts would be worthwhile. I wanted to find a monument that was connected to all the elements. When I first visited many, many years ago, it was the only monument I've ever come across in Greece, and also while travelling round the world, where I feel so connected to the sky, the earth and the sea. There is a raw energy in that positioning."
Katrantzou has worked with Greek charity Elpida – founded by Marianna Vardinoyannis, which helps and supports children suffering from cancer – to stage the event on 3 October. The event is entirely dedicated to raising funds through ticket sales and charitable donations towards Elpida's cause.
"To be able to use something that is a gift to your country and to use it like this validates and justifies an application," she says. "I wanted to do a show dedicated to that location. You can use a location that belongs to your country for a great cause that helps people from your country."
The speed in which the brand has put together the show is impressive, just over seven months from inception to finish. Katrantzou, who is from Athens, first started talking to Elpida in February this year. Their application was approved in mid-July when she started working on the collection, which is inspired by the setting and Greece in general. But don't expect any cliched Greek tropes – Katrantzou says the biggest influence her home country had on her is its mindset and the art of story-telling.
"It's in my thinking," she says. "My collections aren't ever about an era or muse; they're about an idea that allows you to think about different ways of execution. Last season, it was about the elements – earth, wind, fire, earth and water – and the season before it was about the art of collecting. Taking that as a foundation, taking an idea then turning it on its head, is what makes my brand unique in its visual language. The image itself is not what's Greek – my aesthetic isn't what you'd call traditionally Greek, but what is very Greek is my sense of balance and harmony, and the importance of a narrative. Story-telling and finding the meaning behind an inspiration is the most Greek part of my foundation."
Consumers' growing awareness of sustainability has put the future of fashion shows under scrutiny again. Flying to various fashion capitals for a show, and the carbon footprint this leaves, feels at odds with our new environmental focus. But if anyone has reason to prove the legitimacy of overseas catwalk events, it's Katrantzou.
"This show is so meaningful for me because I'm bringing many different elements together – it's not just about designing clothes, it's about communicating the values of my country," she says. "It's giving my guests the opportunity to look at a part of my country that they might never have seen before and doing for it a charity is a way to give back when, as an independent brand, you can't do it on a level of personal donations. Us being able to raise money through ticketing the show will meaningfully support the research."
Sustainability, she says, means various things, but above all it's about being conscious. "To me, for the future of my brand, what I saw with this opportunity is that there are ways to give back and there are different ways to be sustainable. There must be purpose, and more purpose than just showing clothes – which obviously is the most important thing, that's why guests are there – but designers must look forward and open up angles and the purpose of a show. That's the way forward and a more interesting way of looking at fashion."