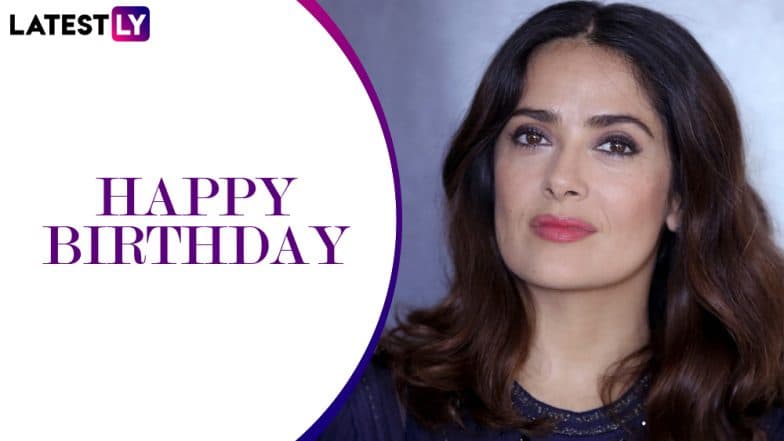 Salma Hayek Birthday Special! (Photo Credits: File Image)
Salma Hayek is one of the most talented and hottest Hollywood actresses who has given several amazing performances in her career. She got her big break in 1995 when she starred opposite Antonio Banderas in Desperado and ever since, she has done varied roles and even dons the hat of a producer. Hayek has been an Academy Award nominee and also the first Latin actress to be nominated in the Best Actress category. Ahead of 53rd Birthday, Salma Hayek Shares a Bikini Picture Sending Instagram Into Meltdown.
Hayek celebrates her birthday on September 2 and will be turning 53 this year. The actress is currently vacationing and we are sure she's having the time of her life considering her amazing pictures. She took to Instagram to share an amazing picture of herself flaunting a bikini as rings in her 53rd birthday and it sure looked like she may be anti-ageing. While we love that Hayek is enjoying her birthday by the beach, we will be celebrating her birthday by remembering some of the most iconic films in her fantastic career so far.
1. Frida
In this 2002 film, Hayek portrayed the iconic Mexican painter Frida Kahlo and was simply exceptional. The film revolved around the artist Frida Kahlo, who channelled the pain of a crippling injury and her tempestuous marriage into her work. The film was nominated for six Academy Awards, including the best actress for Hayek.
2. Desperado
This film was a huge stepping stone for Salma's career. In the film, Hayek played the role of a bookstore owner who falls in love with a mariachi played by Antonio Banderas.
3. Bandidas
Bandidas is one of those rare films that has two female leads and that too as amazing as Hayek and Penelope Cruz. The film revolved around two very different women who team up and become a bank-robbing duo to save their town. The action-comedy was loved by the audiences.
4. Dogma
Salma Hayek played a rather interesting role in this iconic film starring Matt Damon and Ben Affleck. She played Serendipity, was a Muse, beings from Greek mythology who inspired creatives and intellectuals.  Marvel's The Eternals Movie Cast News: Salma Hayek in Talks to Bag a Role in Chloe Zhao Directed Film.
5. Beatriz at Dinner:
Salma Hayek is nearly unrecognizable in this film as a sad-eyed parable in which she plays a healer in Southern California whose car breaks down at the home of a wealthy client. The film was hailed for its social commentary and also for Hayek's amazing performance in it.
As for her upcoming movies, Hayek is all set to join Marvel as she will be seen in The Eternals. She has been roped in to portray the energy-blasting, "leader" of the group Ajak, who in the original Jack Kirby comics was actually drawn as a male. The film is slated for a 2020 release.