OpaOpa Fresh Greek Arrives in Bronxville
Monday, 11 February 2019 13:13
Last Updated: Monday, 11 February 2019 13:34
Published: Monday, 11 February 2019 13:13
Judie Dweck
Hits: 123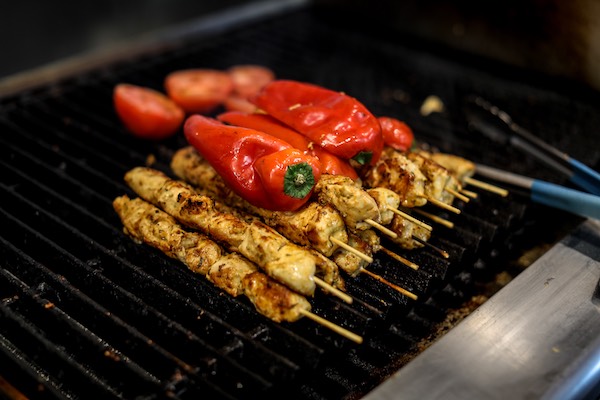 OpaOpa is a Greek emotional expression of enthusiasm that one hears at celebrations. A short time ago, OpaOpa took on another definition- the new restaurant on Bronxville's Pondfield Road, OpaOpa Fresh Greek. Bright white paint and a royal blue awning announce its opening. The airy corner space is bright white with the logo of the restaurant and many fish artistically rendered in blue. Seating about 40 guests at the pedestal tables, the white tile walls make the space sparkle. The counter in the back displays the menu on the wall. They do a large take out business and often there is a long line waiting to pick up orders. The space is architecturally lovely with many angles. The dark wood floors compliment the light wood tables and chairs and lively Greek music plays in the background.
Frank Berisha and his partner Tony were my hosts. According to Frank, " Our dream is to make great food and serve it as if our guests were visiting our home. We treat everyone equally. We wish to make our guests happy and we are happy when they leave with a smile. We expect to sponser charitable events at our restaurant. Our goal is to become better and better and become an important part of this great community."
Greek meals often begin with a selection of mezedes or small plates of hot and cold dishes. Our tasting at OpaOpa started in that traditional fashion. Some warm thin pita arrived with a plate of assorted dips. This colorful plate was decorated with tomato and cucumber slices and olives. There was an eggplant salad dip. The coarsely chopped eggplant had a fine smoky flavor. The familiar hummus was flavored with jalapenos for a wake me up taste. A spicy feta cheese dip was rich and robust. My favorite was the tzatziki, a combination of Greek yogurt, cucumbers, garlic and mint. They were all excellent with our warm pita wedges.
Several homemade soups are offered and we chose the traditional argolemono soup, that lemon flavored chicken potage, a Greek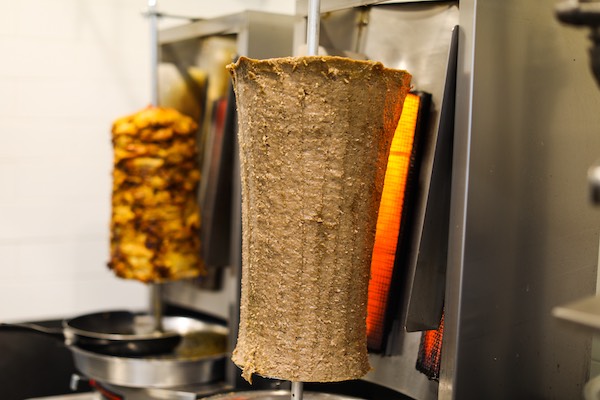 classic. Here, a hearty bowl of chicken broth combined with whisked egg, fresh lemon juice and chunks of chicken was the perfect way to cure a cold. Orzo was added, and the result was a great meal in a bowl.
Among the hot appetizers there was fried zucchini, zucchini croquettes, fried meatballs, and saganaki. We sampled a large square of spinach pie filled with chopped spinach and feta cheese, layered with crisp baked phyllo pastry, a great combination of tastes and textures. A large Greek salad arrived next. Exploding with color it was a garden on our plate, with lettuce, tomato, olives, red onion slivers, peppers and feta cheese topped with a delicious stuffed grape vine leaf. A light Greek olive oil dressing completed this generous salad. Other salad options included Caesar, and a roasted beet salad with arugula, chick peas and Kalamata olives among its ingredients. You can make these salads into a meal by adding gyro meat, grilled chicken breast, salmon or avocado. We proceeded to sample the " on the stick selections." The grilled pork was tender and lean. The chicken was a bit on the dry side, but I am sure that served in one of the sandwiches with pita and lettuce and tomato and tzatziki it would be much improved. Other Greek sandwiches include veggie souvlaki wraps, falafel, souvlaki and gyro. The chicken gyro is prepared in house and the beef and lamb gyro is of the finest quality. If a burger is your wish, try the Santorini salmon burger with feta cheese, lettuce, jalapeno and avocado or Greek style burger with cheese on pita.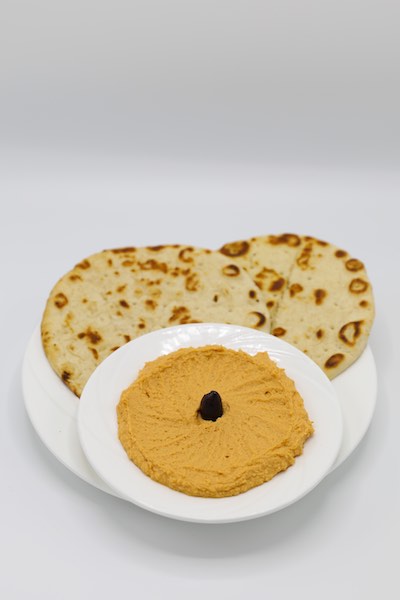 It was time to sample some of the homemade Greek specials. There is shrimp with orzo, roasted lamb and stuffed peppers and tomatoes. We chose pastitsio, a casserole of macaroni and ground beef flavored with nutmeg and topped with a thick layer of béchamel. It was rich and warming. Very delicious was their rendition of moussaka, with layered of eggplant, potatoes and ground beef with a crown of golden-crusted béchamel.
From the land there are lamb chops, rib eye steak, grilled quail, and pork chops grilled and served with salad, pita and a side dish. Since this is a Greek dining spot you can choose an entrée from the treasures of the sea. Porgy, red snapper, flounder, swordfish, calamari, octopus and cod are some of the offerings. We were presented with a regal whole branzino baked and grilled to perfection. To accompany your meal, a must have are their lemon potatoes. The large segments of Idaho potatoes are infused with fresh lemon juice and sprinkled with oregano and herbs. They were among the best I have tasted.
Complete your meal with homemade baklava, kataifi, or galaktoboureko and perhaps a cup of Greek coffee.
It certainly would be enchanting to eat a meal such as those I described, on a Greek island surrounded by the shimmering blue sea, watching the boats unload the day's catch, but if that experience is not on your agenda, enjoy the traditional foods of Greece at OpaOpa Fresh Greek in Bronxville.
OpaOpa Fresh Greek
116 Pondfield Road
Bronxville, New York
914 6008129 or 914 6008193
Recipe: Hummus – about 3 cups

1 pound chick peas
1 tsp. minced garlic
3 Tbsps. Tahini
¼ cup fresh lemon or lime juice
¼ cup Greek olive oil
Salt and white pepper, to taste
Place chick peas, garlic and tahini in a food processor and process until smooth. Slowly drizzle in the oil and citrus juice and season to taste. Refrigerate in a non reactive container and serve with pita bread.