By Christine Salins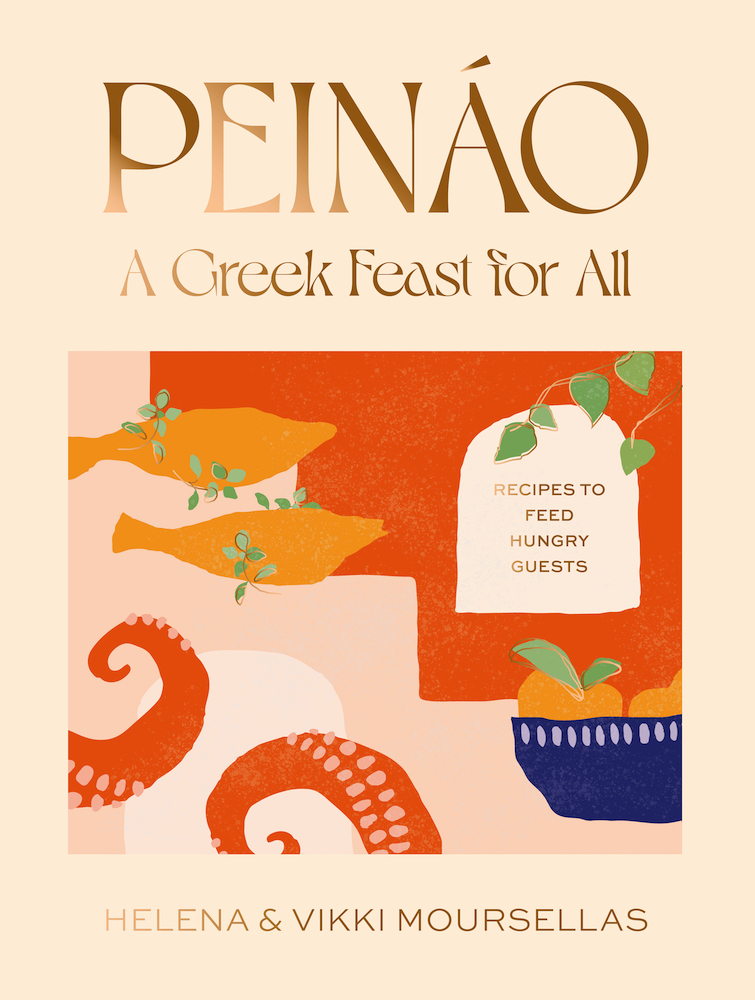 Peináo is a Greek word that translates to "I'm hungry". It's a sentiment taken very seriously by Helena and Vikki Moursellas, who grew up in a large, bustling family where food was front and centre.
The twins won Aussie hearts with their Greek family food on My Kitchen Rules. Peináo is the title of their latest cookbook.
In this lovely cookbook, published by Smith Street Books, they put a creative spin on many beloved Greek classics. Whether you're cooking for a dinner party, breakfast for family, or mezze for friends, there's a feast for every occasion.
Feasting is something the sisters are very familiar with, as they say in the book's introduction. "We grew up (in Adelaide) attending family social events nearly every weekend, from cousins' birthday parties to Greek weddings and Saturday night barbecues. Tables would be filled with trays of pastitsio, bowls of garlicky tzatziki, platters of diamond-cut pieces of revani and glasses of homemade red wine from Mum's uncle Harry."
Their parents loved entertaining, something the sisters clearly inherited. "Ours was the house that everyone would pop over to for a wine and a plate of olives, and Dad's freshly caught fish. The kids would run wild around the house playing hide and seek, while the adults enjoyed a drink and listened to Greek music."
Their grandparents played a huge role in their lives, even more so after their father died suddenly at the age of 41, when they were only 12. "Papou (grandfather) would drop off fish and chips to us at school for lunch, and our friends were always amazed that he would do that. … Yiayia (grandmother) taught us how to cook; she showed us how to make food with our hearts and our hands. We loved everything she made for us."
Appearing on My Kitchen Rules opened up a whole new world for the sisters, who admit they were quite directionless for years after their father died.
"We spent six months filming and travelling the country, visiting the other contestants' homes. Obviously, dinner parties on TV are very different from real life, but we love that we got to show Australia how we throw a big fat Greek dinner party."
It was while they were on the show that they started writing the recipes for their first cookbook, Taking You Home: Simple Greek Food, published in 2015. Peinão, they hope, will get people cooking a little more creatively, to cook with heart and remember how special it is to eat good food with great people.
The recipe here isn't cheap, but buying a small piece of tuna like this allows you and your guests to enjoy the perfect mezze. Helena and Vikki suggest serving the rusk breads on the side so your guests can dip in and help themselves. They love serving it alongside another dish in the book, Ouzo-cured kingfish with lemon oil, and a glass of orange wine.
Tuna with tomato & dill yoghurt
200 g Greek-style yoghurt
2 tablespoons dill fronds, finely chopped, plus extra to serve
juice of ½ lemon
salt flakes
300 g sashimi-grade tuna, diced
100 g heirloom cherry tomatoes, roughly chopped
1 tablespoon chilli oil, plus extra for drizzling
2 teaspoons toasted sesame seeds Greek rusk breads, to serve
Combine the yoghurt, dill and lemon juice in a bowl and season with salt flakes.
In a small bowl, combine the tuna, tomato and chilli oil and season with 1 teaspoon of salt flakes.
To serve, spread the yoghurt mixture onto a plate and top with the tuna mixture. Scatter with the sesame seeds and extra dill fronds, and drizzle with extra chilli oil. Serve with rusk breads.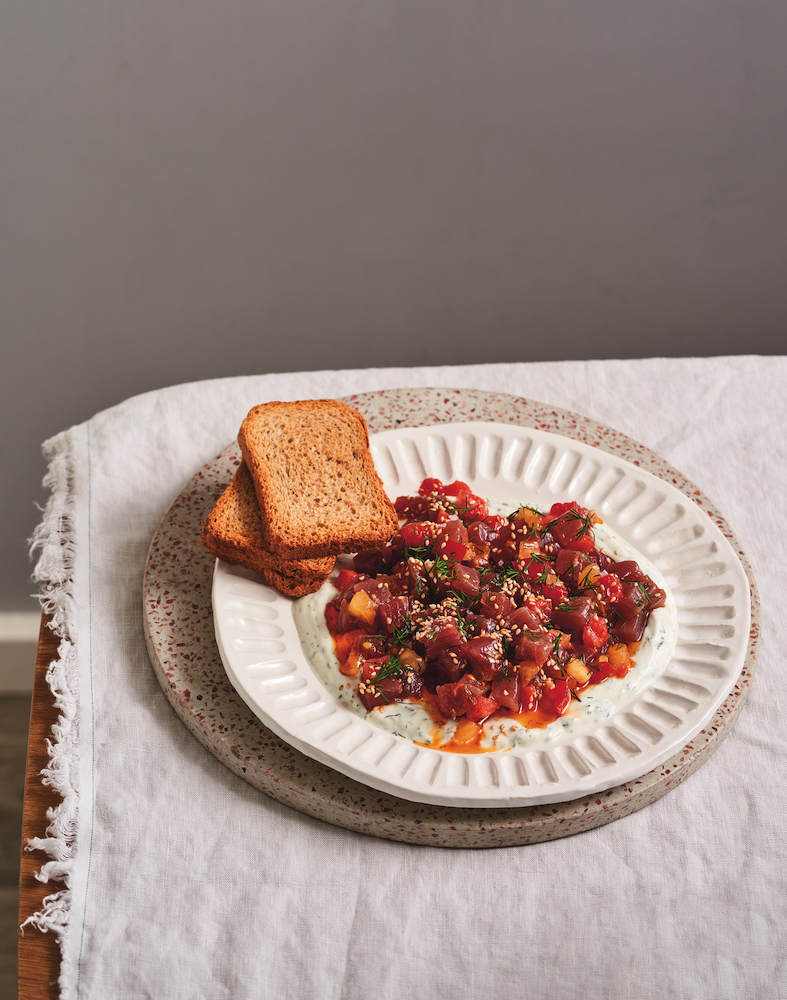 Recipe and image from: Peináo by Helena and Vikki Moursellas, published by Smith Street Books.